French General Pondicherry

Part of French General Pondicherry line, 100% cotton, machine washable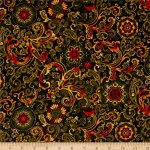 Henry Glass Harvest Gathering 8772 66

Henry Glass & Co Harvest Gathering fabric collection 8772 66, by Color Principle. Beautiful harvest colors of golds, oranges and green paisley floral print on a green background. 100% cotton, machine washable.


MODA Guernsey - 18642 15

Part of the MODA Guernsey Collection - 18642 15.Brenda Riddle Designs Floral Dawsey Paisley Pink - Bloom. Pink fabric with a paisley and floral print in white, pink, yellow, and light blue. 100% Cotton; Machine Washable.