InvisiGRIP

Prevents rulers from slipping when rotary cutting. A clear, non-slip material that is applied to rulers, cutting mats, and templates.


Price

$7.49

Quantity:






Pop Top

Small plastic container for holding/storing pencils, rotary cutters, etc.


Price

$2.49

Quantity: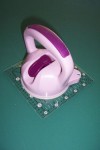 The incredible In-Between Gripper

A super-strong, four- inch, single-suction-cup Gripper, with a handy Installation Indicator, for use with your larger rulers and templates. By The Gypsy Quilter


Price

$15.99

Quantity:






The Martin Tree Farm Ground Black Walnut Shells

Net Wt. 1 Lb.


Price

$12.50

Quantity: